Visiting Putrajaya, the beautiful administrative state of Malaysia? Well, there's plenty of attractions in Putrajaya that Team E.T.A would love to feature, but there's this one particular ongoing that we would like to recommend: Putrajaya International Book Fair 2014: Bookerville
Putrajaya International Book Fair as this is truly a first-of-its-kind book fair in Malaysia. The fair runs from 19th-23rd of March 2014.
What visitors can expect from this fair is a theme park concept exhibition with over 60,000 square feet of space. Visitors of the fair will be transported into a magical book town called the "BOOKERVILLE". The best part of it? They're not just excess books. That means the authors will get some royalty from the book sale.

The book fair is aimed to provide an enriching, educational and entertaining environment to visitors.This book fair will feature more than 5 million worth of books offered at attractive prices in two exhibition halls. Here's what you can expect from the Putrajaya International Book Fair- Bookerville:
Besides that, the fair will comprise of books, magazine, e-books, educational aids, stationery, digital and IT devices, toy and gifts.

In addition, there will also be book talks, celebrity appearances and other fun activities for children including gaming challenges, arts and crafts sessions, role playing activities by Kidzania and a host of other exciting activities lined up for all age groups. For more information, you can visit MPH website HERE.
There is a bit of a bonus too. Check this out for privileges: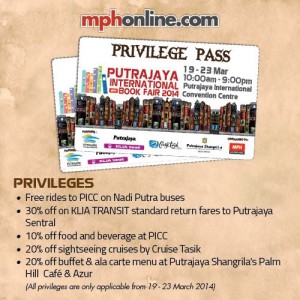 Check out HERE and present this special pass and enjoy a host of privileges offered by our partners including free bus rides to PICC, RM1 for Putrajaya City Tour, discounts on F&B at the 5 star Putrajaya Shangri-la, sightseeing packages at Cruise Tasik and many more! Start planning your trip and make this a fun day out with family and friends!