KidZania is an indoor family education and entertainment centre, which offers an interactive learning and entertainment experience targeted at kids aged 4 to 14 years. KidZania combines role-play with real life, creating a kid-centric city experience designed to educate and inspire kids; from arriving at the airport, to visiting a city centre to exploring the city streets. As in the real world, kids choose activities – such as being a police officer, doctor, journalist or a customer – and earn money, which they can then spend or save. KidZania operates just like a real city complete with buildings, paved streets, vehicles, a functioning economy, and recognisable destinations in the form of "establishments" sponsored and branded by leading international and local brands. The facilities are designed to educate through experience, fostering the development of life skills, but from a kid's perspective it is all about fun.
KidZania Kuala Lumpur has won numerous awards, including "Best Experience for Kids" at the Best of Malaysia Awards (BOMA) 2013 and 2014 consecutively. Spread over 80,000 sq. ft. across two levels, KidZania Kuala Lumpur is conveniently located in Curve NX opposite the Curve shopping mall in Mutiara Damansara and offers more than 100 different role-playing activities in over 60 establishments.
KidZania Kuala Lumpur, the award-winning themed learning centre, announced Spritzer, Media Prima TV Networks, Media Prima Radio Networks, Canon Malaysia, STABILO and BHPetrol as its industry partners for its unique city role-play education model, today.
One of the newest additions to KidZania Kuala Lumpur's partnership circle is Spritzer, where the brand introduces its bottling plant where it demonstrates the bottling and quality control process for mineral water as well as gathering used bottles for recycling through the role plays as bottling plant operators and deliverymen. However, if kids are interested in being involved in the radio broadcasting industry, Media Prima Radio Networks allow kids to experience the thrill and excitement of becoming a radio announcer, a guest speaker and a news reader. For photography enthusiasts, Canon's imaging studio provides kids an opportunity to learn how to take photos using digital single-lens reflex cameras, understanding photo composition and handling the functions of the camera.
Meanwhile, Media Prima TV Networks, STABILO and BHPetrol, also announced the extension of their tenure with the themed educational establishment; allowing children to enjoy the roles and activities provided at the Media Prima TV Networks acting academy theatre, STABILO design studio and BHPetrol Pump Station.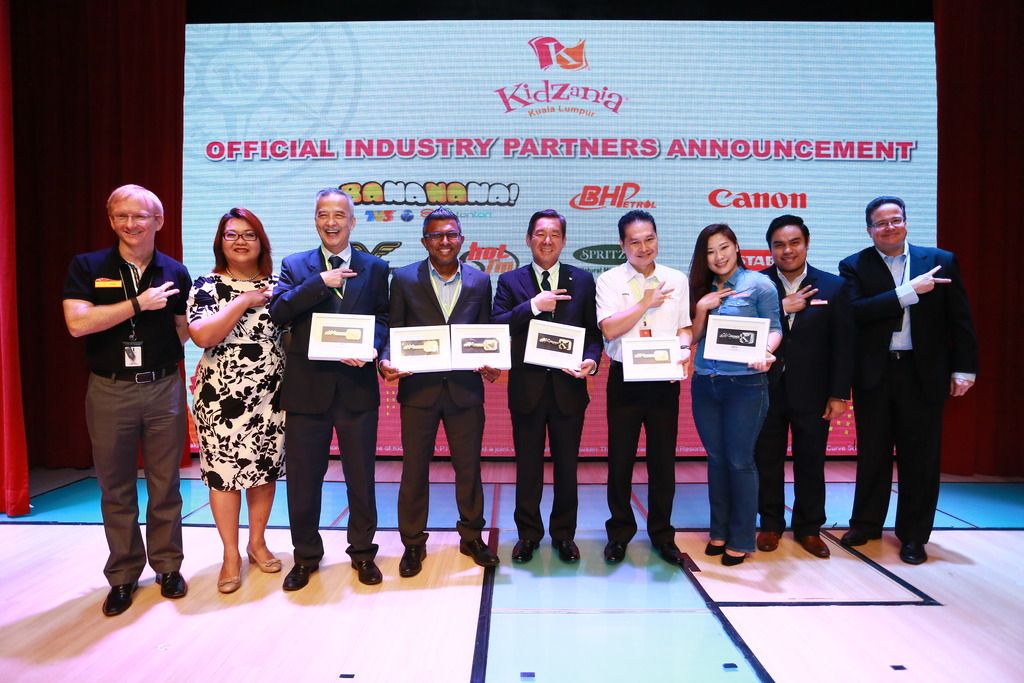 All six partners were presented with 'keys' to the city of KidZania Kuala Lumpur, to symbolize the trust and appreciation of their industry contribution to the themed learning centre.
KidZania thrive on innovative approaches towards combining the elements on providing a fun-based learning experience as part of the customer experience at KidZania Kuala Lumpur their industry partners today provides authentic and realistic role-playing opportunities as the subject matter experts in the respective industries of media broadcasting, imaging, petroleum, bottled water production and writing instruments manufacturing.
KidZania Kuala Lumpur goes beyond traditional teaching mediums to continuously look at opportunities to expose kids to new experiences and endless occupational possibilities and is an officially endorsed co-curricular partner to the Malaysian Ministry of Education. As of now, KidZania Kuala Lumpur offers over 110 profession related role-playing activities spread across 60 various city establishments.
In pursuit of excellence, KidZania Kuala Lumpur was also recently awarded the silver winner under the Best Employee Engagement Strategy category at the Asia Pacific Loyalty & Engagement Awards 2015 held at Singapore.
For more information, visit www.kidzania.com.my or call the KidZania CareLine at 1300 88 KIDZ (5439) or get connected with KidZania through Facebook at www.facebook.com/KidZaniaKualaLumpur or tweet them at @KidZaniaKL.