Following our previous trip, Negeri Sembilan, a state known for its Adat Pepatih became the preferred location for the Cuti Cuti 1Malaysia Sahabat Media program.Here is a recap of the trip:
Sahabat Media entourage arrived Klana Resort Seremban. The resort is located within the park, surrounded by trees greenery. Klana Resort Seremban is famous as one of the best team building. Here we had a chance to try some team building activities such as flying fox and abseiling. Forces that oversees the program team building here pretty experienced and trained. Traditional music greets our arrival in the lobby while we were greeted by the acting General Manager Klana Resort, Mr Saiful Bahri and YB Abu Samah Mahat.
While enjoying refreshments, a press conference was held. Then we had lunch in Xinjiang Restaurant, a Chinese restaurant in Klana Resort Seremban. Do not worry about eating here because the restaurant is certified halal and the chef, Chef Ho Tui Kit is experienced in Chinese Muslim cuisine. The menu should be tried is deep fried cod fish with Thai Sauce, braised shark fin soup with crab meat, chicken with dried chilli and cashew nuts and many more. Klana Resort Seremban also offers a Japanese restaurant, Yuri Japanese Restaurant too.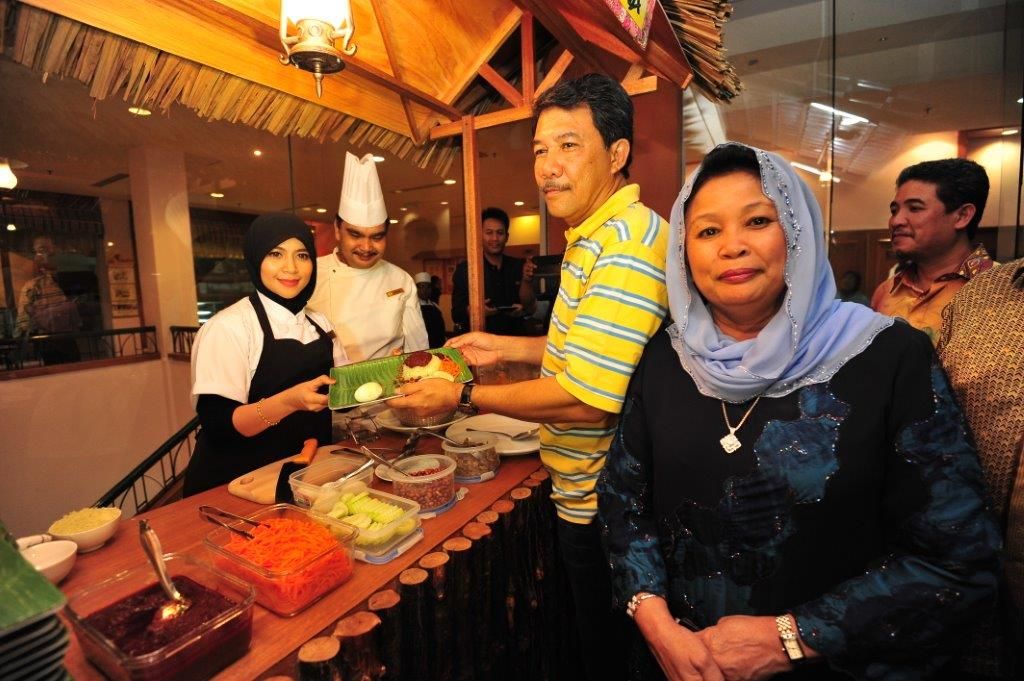 Klana Resort Seremban has also taken the initiative to introduce Klana Steamed Nasi Lemak. Steamed nasi lemak special the specialty of Shura, Celebrity Master Chef. In conjunction with the launch of this steaming nasi lemak, Negeri Sembilan Menteri Besar, YAB Dato 'Haji Mohamad bin Haji Hassan and his wife inaugurate this special steamed nasi lemak. Sahabat Media was also served with iftar menu Klana Resort Seremban.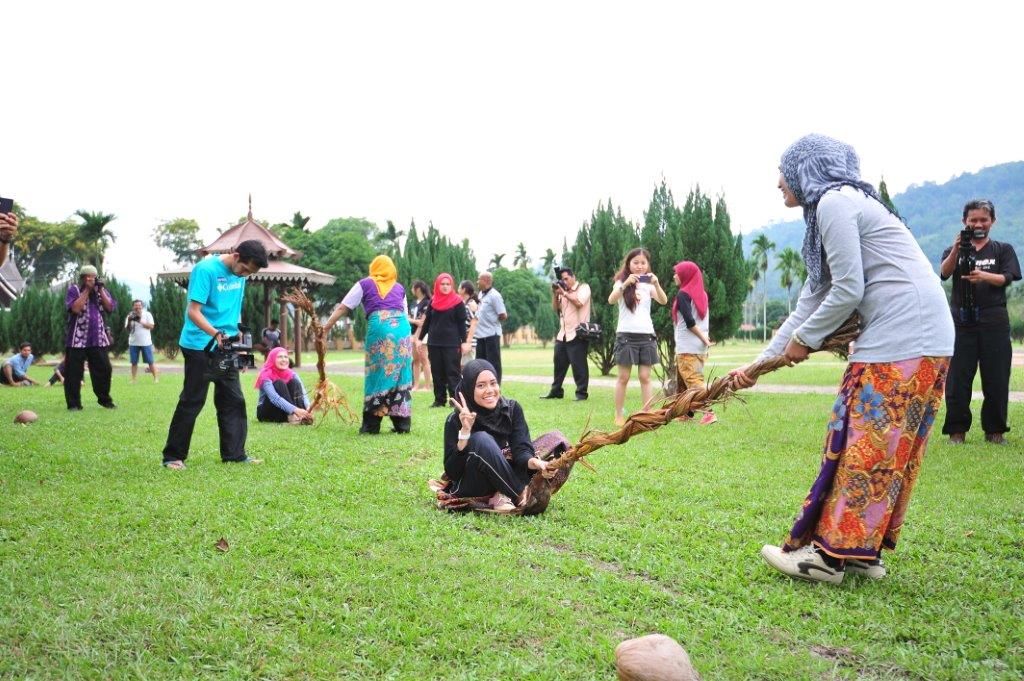 While the evening, traditional games competitions as konda-Kondi, pull the stork nut and coconut bowling was held at the Istana Seri Menanti. Some of those players who never play konda life-Kondi.
By dinner, we all were treated to Negeri Sembilan Traditional Food in the 'Makan Bersilo'.
On the third day, as early as eight o'clock in the morning, we were all taken to the Seri Menanti Resort. For golf enthusiasts, you can try to play here because the fields are quite challenging. According to Mr. Ibrahim, who hails from Kuala Lumpur, the golf course is quite challenging because it is hilly and narrow.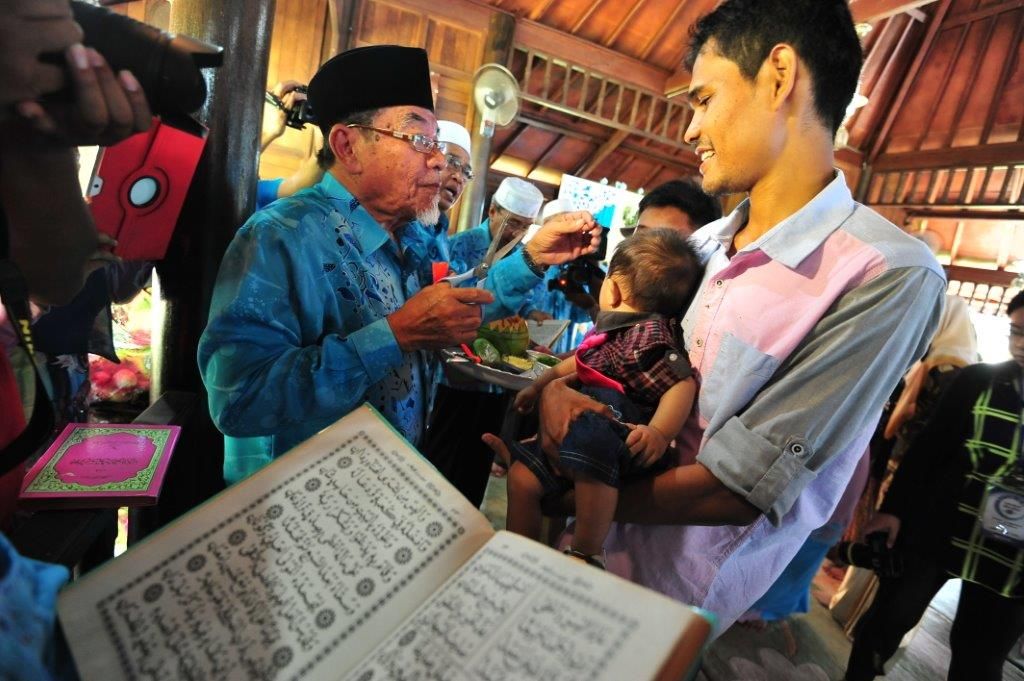 Sahabat Media also get to see a Majlis Berendoi where the event aims to celebrate the birth of a baby. Islam encourages shaved bald baby up so that all the dirt that comes out of the uterus can be removed and allow new hair to grow healthily. There was also berzanji and marhaban during the Majlis Berendoi.
After that, Sahabat Media were brought to Starfresh Agro Park. It is a place that has a restaurant, livestock, spa and much more in the same place. Do not worry because even Starfresh Agro Park has farm animals and a restaurant, cleanliness is assured, no odors or animal feathers flying. Starfresh Agropark this area 40 acres and was built in 1985 but at that time there were only fruit plantations only. In 2009, it was developed into one of the agro-tourism attraction. Here also serves a variety of food such as Chinese Muslims, steamboat, Thai Cuisine and Western cuisine. Most vegetables that is used in the dishes are harvested from the farm at the back of the restaurant. There are various herbs like cat whiskers, an elephant's trunk and various other herbs. . Besides the restaurant, there are also other attractions such as paintball, spa, dorm halls, fruit orchards, livestock areas, and more.
Sahabat Media journey in Negeri Sembilan ends here and we were transported back to Matic. 🙂