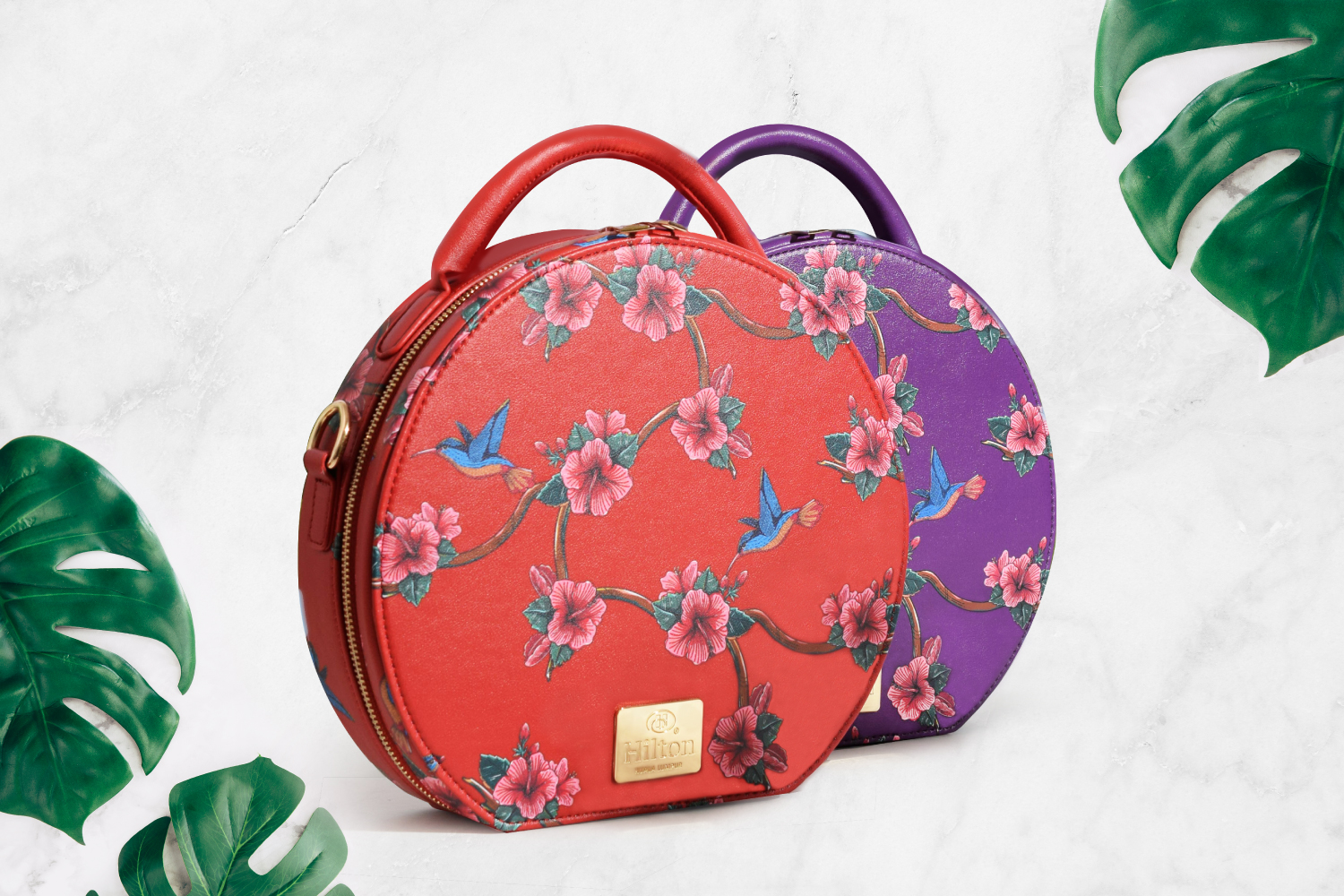 Returning for a second time around after a resounding success last year, Hilton Kuala Lumpur, the award-winning business and lifestyle hotel partners with Christy Ng for this year's mooncake gift boxes.
The hibiscus is Malaysia's national flower and the inspiration behind this year's mooncake gift boxes. A collaboration with Christy Ng, local fashion designer and brand owner, this collection pays tribute to the nation's homegrown pride and resource. The rounded faux leather creation features hibiscus prints, a tribute to the crimson national flower of Malaysia, along with gilded zippers and trimmings. Perfect on its own as a statement piece, the versatile design can also be converted into a striking crossbody bag with the addition of a handbag strap.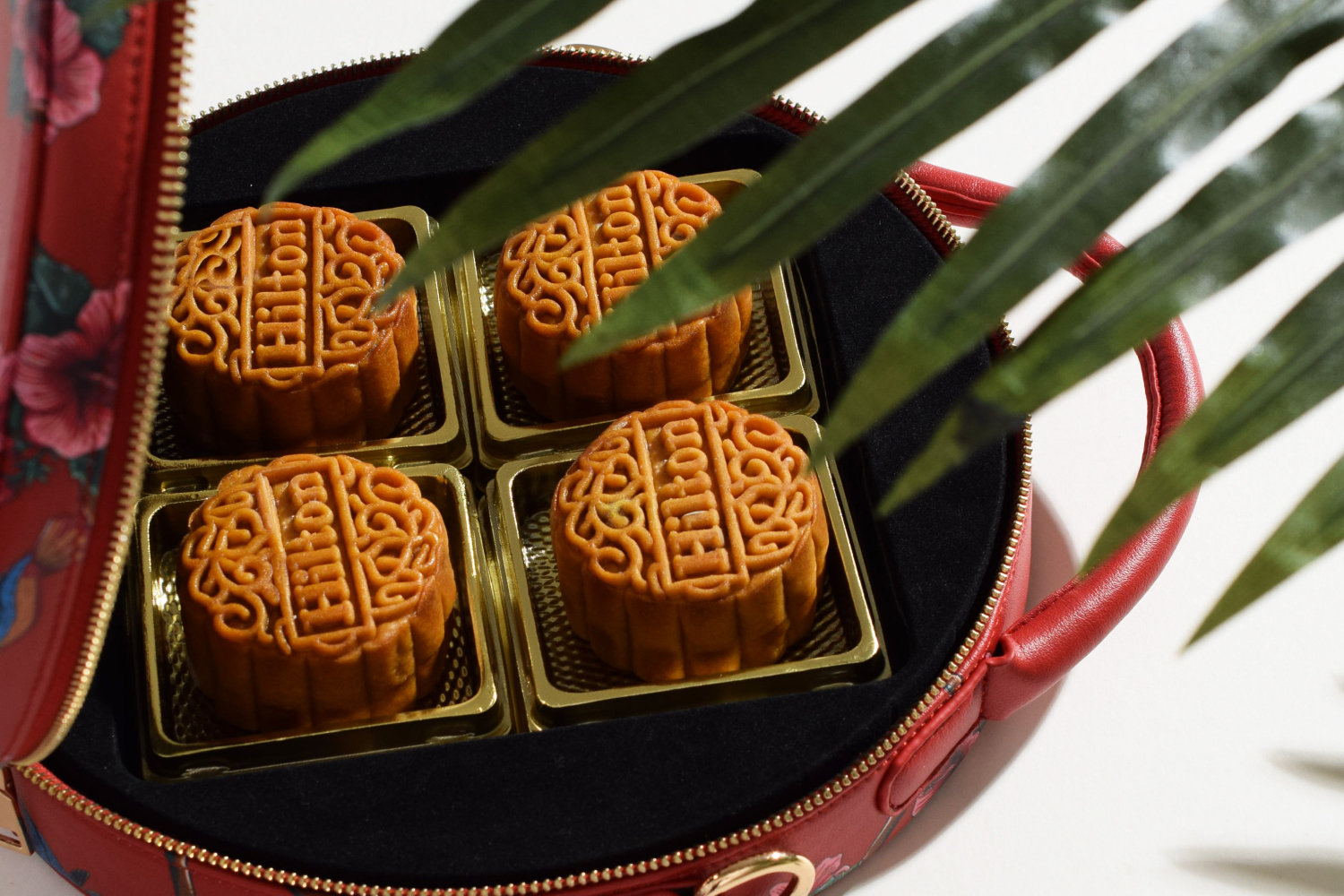 Two signature boxes were created in this fashion collaboration – Crimson Red and Royal Purple.
Tropical Allure Series – Packages
Our signature series for the year comes with a mooncake gift box, designed specially by Christy Ng. Each box, available in two colours, comes with four pieces of Chef's choices' baked mooncakes at RM168.00. The Snow Skin Package retails for RM178.00, with any choice of four pieces of snow skin mooncakes. For ardent Musang King lovers, the Heavenly Gold Package features a quad of pure Musang King durian snow skin mooncakes. Fans of the mooncake gift box can purchase it, minus the mooncakes, for RM148.00.
Christy Ng's Crimson Red RM168
Christy Ng's Royal Purple RM168
Snow Skin Package (inclusive of gift box) RM178
Heavenly Gold Package (inclusive of gift box) RM280
Mooncake gift box only – Crimson Red / Royal Purple RM148
Add-on: Cooler Bag RM20
Add-on: Tropical Allure Handbag Strap RM20
Signature Handcrafted Perfection
The hibiscus is known colloquially as China rose. Drawing inspiration from this revelation, the eponymous signature snow skin mooncake, Chynna Rose (RM38), is a play of words on Chynna, Hilton Kuala Lumpur's Chinese restaurant, where the snow skin mooncakes are individually handcrafted. The Chynna Rose features ingredients such as lusciously smooth lotus paste infused with ginseng; tart hibiscus jam, known for its antioxidant properties; and crispy almond nibs, all encased within a subtle lavender-hued snow skin.
Coveted Classics
Enjoy the season of merriment and tradition with our array of mouth-watering halal-baked mooncakes, a celebration best complemented with the company of loved ones and cups of hot Chinese tea.
Baked White Lotus Paste RM35
Baked White Lotus Paste with Single Yolk RM38
Baked Lotus Paste with Single Yolk RM35
Baked Pandan Paste with Single Yolk RM35
Baked Red Bean Paste with Almond Flakes RM35
Traditional-Style with Five Nuts Mix RM38
Much-Awaited Returns
To the moon and back – that is the length we would go to bring back your favourites. Our renowned snow-skin flavours are making a comeback for a limited time this year.
Heavenly Gold – Snow Skin with Pure Premium Musang King Durian RM56
Blue Moon – Snow Skin Amaretto Lotus Paste with Blueberry Cheese Feuillantine RM35
Flower Drum – Snow Skin Lotus Paste with Soft Custard Egg Yolk RM35
Mid-Autumn Series
Khoon Hooi's Midnight Bloom RM138
Khoon Hooi's Blossom RM138
Traditional Standard RM118
*10% discount for Tropical Allure series and 15% discount for Mid-Autumn Series are available for Hilton Dining APAC members and selected bank partners.
All of the traditionally baked and snow skin goodies are available for purchase at the pop-up store in Hilton Kuala Lumpur's lobby from now until 13 September 2019 as well as major shopping malls such as Pavilion Kuala Lumpur (23 Aug 2019 – 12 Sept 2019), Mid Valley Megamall (22 Aug 2019 – 13 Sept 2019), and One Utama Shopping Centre (29 Aug 2019 – 12 Sept 2019)
Alternatively, online orders are also available at www.takehome.hiltonkl.com. For more information, call +603 2264 2006 or email [email protected]