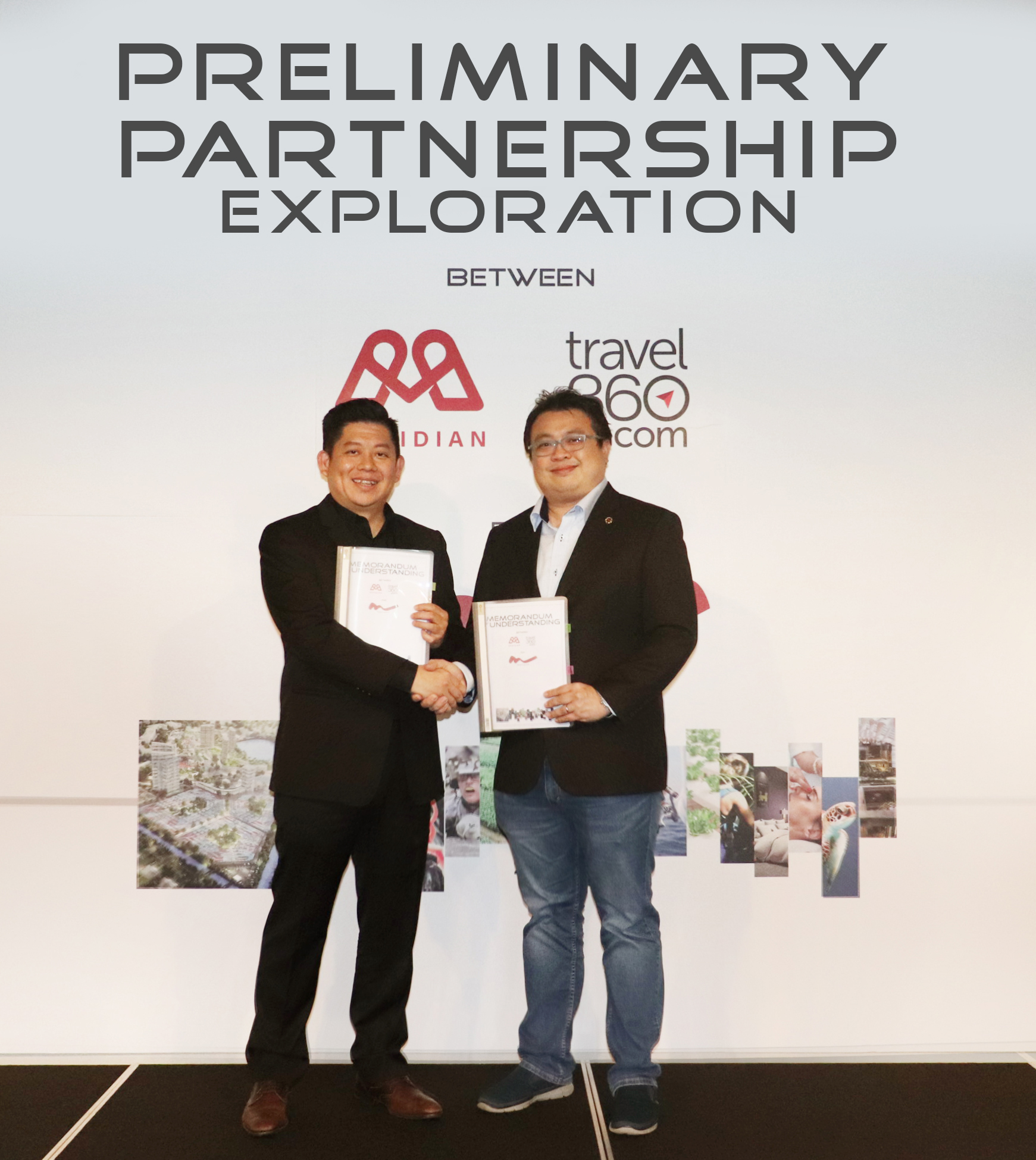 Meridian Berhad ("Meridian" or the "Company") (formerly known as Meda Inc Berhad), today announced that the Company is exploring a preliminary partnership with travel360.com, the digital expansion of AirAsia's award-winning inflight magazine travel360. The partnership aims to steer Meridian's MTC project to greater heights and aims to see travel360.com as Meridian's official marketing partner for the MTC project.
As Meridian's official marketing partner for the MTC project, the partnership will holistically boost the local economy through tourism and trade for both the state of Malacca and Malaysia. Amongst the many initiatives include marketing leadership programmes at MTC's IP branded leadership camp via exclusive packages to promote entrepreneurial spirit; and boutique holiday stays. Additionally, emphasis would be placed into promoting locally-made products from the MTC's weekend market, and the organic and hydroponic farm.
"With travel360.com's support, especially in the promotion of MTC as the ultimate destination for local and international tourism, we will be benefiting the local economy by attracting greater inflow of tourists into Malacca, which will in turn contribute to the national economy as a whole," Dato' Seth Yap, Executive Director of Meridian expressed.
Chief Executive Officer of travel360.com, Spencer Lee shared: "Meridian has a very interesting plan for MTC and we are honoured and excited to be part of this journey and contribute to making MTC a success. On a broader spectrum of the business, AirAsia.com will continue to explore even more new routes to Malacca from our ASEAN network and expand our offerings to include hotels, activities and daily deals. travel360.com will also be curating content about Malacca to inspire travel among local and international travellers."
MTC was recently launched by YB Datuk Mohamaddin bin Ketapi, Minister of Tourism and Culture Malaysia. A flagship project under Meridian, this 600 acres of land located in Kuala Linggi, Malacca will be transformed into an integrated tourism destination.
During the launch of MTC, Dato Seth has also symbolically signed a licensing agreement with Natalie Chan, Regional Director of Hasbro Live! ("Hasbro"), the largest toy maker in the world with over a thousand Intellectual Properties of beloved brand names such as NERF, MY LITTLE PONY, MR POTATO HEAD, PLAY-DOH, BATTLESHIP, MONOPOLY, ELEFUN & FRIEND AND MOUSETRAP.
Dato' Seth intends to bring over the said licensing rights to MTC by developing the World's First Hasbro Water Theme Park together with Meridian. He will also use his best effort to make the water theme park a key catalyst of MTC. The collaboration framework is yet to be finalised between Meridian and M101, and details of the collaboration will be announced in due course.
Dato' Seth further added: "Our ultimate goal for MTC is to establish a unique position that reflects MTC as "the destination", first in the world that prolongs tourists' average length of stay. We will leverage on our expertise in property tourism to achieve what has been set out."